Reviewed by Nikyta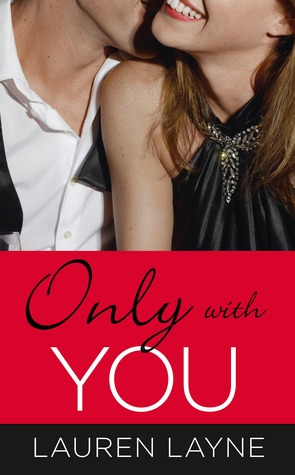 Title: Only with You
Author: Lauren Layne
Series: The Best Mistake #1
Hero/Heroine: Sophie & Gray
Genre: M/F Contemporary Romance
Length: 368 pages
Publisher: Grand Central Publishing Imprint: Forever
Release Date: July 29, 2014
Available at: Grand Central Publishing, Amazon, Barnes & Noble
Add it to your shelf: Goodreads
Blurb: Love is the Biggest Gamble of All . . .
Cocktail waitress Sophie Dalton doesn't exactly have a life plan. She's perfectly happy being everyone's favorite party girl. But when a Las Vegas bachelorette party goes awry and an uptight businessman mistakes Sophie for a prostitute . . . well, Sophie wonders if it's time to reevaluate her priorities. Swearing off her thigh-high boots for good, Sophie slinks back home with damaged pride-and a jackpot of a hangover.
Yet what happens in Vegas doesn't always stay there. On a trip to Seattle to open a new office, Grayson Wyatt meets his latest employee-who turns out to be the same woman he recently called a hooker. Wealthy and gorgeous, Gray is a man used to getting what he wants. And it doesn't take long to figure out that smart, sassy, sexy Sophie is everything he's been looking for. As their late nights at the office turn into hot morning-afters, they realize their Vegas misunderstanding may lead to the real thing . . .

Review:
Before I get into my review, I just want to say that I usually don't read contemporary M/F. Not because I don't like them but because, so far, every M/F contemporary I've picked up have been focused too much on the sex aspect (no, they weren't labeled erotica, either!) and not enough on the sexual tension part. So, usually I avoid them because it saves me the trouble of reading a long novel and then being bombarded by the all too quickly smut. Anyway, I felt myself going into a funk and decided to try my hand at something I don't normally read. Thus, Only with You found its way onto my kindle…
Being assumed a hooker by a complete stranger in Las Vegas shouldn't bother Sophie Dalton, the self-imposed party girl, but it does. Being called a hooker shouldn't cause her to hit rock bottom either, but it does. And seeing that same handsome stranger, Gray, dating her sister a few weeks later shouldn't bother her either… but it does. When Gray's pushed into giving Sophie a job, Sophie fully expects to make her new boss's life miserable but through their mutual animosity, they start to realize there may be more to each other than first impressions led to believe.
I absolutely LOVED these two. They are complete opposites in that Sophie is the classic example of a beautiful, outgoing woman while Gray is more reserved and guarded. Gray hates everything about Sophie because she's so friendly and engaging while Sophie hates everything about Gray because he's judgmental and boring. Throughout most of the book, they're circling around each other, throwing insults, partaking in amusing banter and bickering about the littlest things. Sophie makes it her life's work to annoy Gray and Gray does everything he can to ignore how much Sophie affects him.
However, they're perfect for each other because Gray is the rock Sophie needs (she's not flighty or anything, just doesn't know what to do with her life) and Sophie brings out who Gray really is beneath the stone-cold persona and realizes that while Gray may seem unapproachable, he's really just awkward in talking with people. The sexual tension between them is outstanding and right from the start very potent. It was so much fun seeing these two go at it and then cave to the inevitable attraction that's been fueling their hostility. SO MUCH FUN!
My only issue with this one was that toward the end, I felt like the cat and mouse game between Gray and Sophie lasted a little too long for me. BUT almost right after I had that thought, things between them started to smooth out. Beyond that, I wished we had gotten to see more of Gray's POV! Especially towards the end. He's such a closed off guy, I would have loved to experience his feelings about Sophie when everything was going down.
In the end, I absolutely adored this book. It was exactly the thing I was looking for without even realizing I wanted it. I adored both Sophie and Gray, their opposites attract connection and the rollercoaster that was their time together. Overall, a fabulous story by an author who has a smooth, engaging style. I'm looking forward to seeing what Ms. Layne has in store for Brynn and Will in the next novel in this series, Made for You.
Overall Impression: I loved it!

*I received a copy of this book from the publisher in return for a fair and honest review.*