Reviewed by Nikyta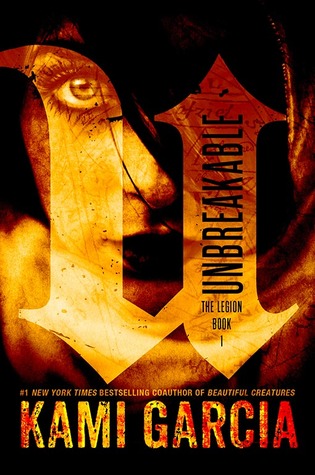 Title: Unbreakable
Author: Kami Garcia
Series: The Legion #1
Heroine/Hero: Kennedy/Jared/Lukas
Genre: M/F YA Paranormal Suspense
Length: 322 pages
Publisher: Little, Brown Books for Young Readers
Release Date: October 1, 2013
Available at: Amazon
Add it to your shelf: Goodreads
Blurb: I never believed in ghosts. Until one tried to kill me.
When Kennedy Waters finds her mother dead, her world begins to unravel. She doesn't know that paranormal forces in a much darker world are the ones pulling the strings. Not until identical twins Jared and Lukas Lockhart break into Kennedy's room and destroy a dangerous spirit sent to kill her. The brothers reveal that her mother was part of an ancient secret society responsible for protecting the world from a vengeful demon — a society whose five members were all murdered on the same night.
Now Kennedy has to take her mother's place in the Legion if she wants to uncover the truth and stay alive. Along with new Legion members Priest and Alara, the teens race to find the only weapon that might be able to destroy the demon — battling the deadly spirits he controls every step of the way.

Review:
When Kennedy's mother dies suddenly, her whole life changes. Before she knows it, she's packing up to move to bordering school but before she can, she's attacked by an vengeful ghost and saved by twin brothers, Jared & Lukas, who claim she's the fifth person in their Legion and in serious danger. Convinced they're crazy, she goes with them anyway because she needs answers, especially when the twins say her mother was part of the Legion before she died. Now, Kennedy and the rest of the Legion are on the search for a way to end a demon once and for all. Along the way, Kennedy gets sucked into a world filled with deadly ghosts and running for their lives.
Oh man, what a ride this book was! When I started it, I wasn't sure what to expect because I hadn't read the blurb in a while. I was sucked in right from the start, though, and I just LOVED how much suspense was in this one. Kennedy, Jared, Lukas, Priest & Alara, while technically only teenagers, are still badass kids who know how to fight the dangerous spirits (well, all except Kennedy!). It was great seeing the contrasting personalities working together towards a common goal. It was even better seeing how they all clashed and what their skills were.
As for the characters, I really liked Kennedy. She's a bit punk but I loved that she was so in-tuned with drawing. Even more than that, though, I loved her connection with Jared. At first, I was afraid Lukas was her love interest but thankfully, she picked the emotionally damaged twin 😀 Granted, there's a lot of conflict with them starting anything but that made the story even more intriguing for me. And even though I'm not a big fan of love triangles, I ended up liking it because there's so much guilt and grief in this one that it made things interesting to say the least.
While I sincerely adored this book, I won't deny it's not without its problems. My biggest issue is that I found Kennedy to be very repetitive. With her, it was all about 'not belonging' and while I can understand that, her bemoaning that fact after the fifth or sixth time grew tiresome. Beyond that, there were a lot of questions left answered by the end of the book but considering this is the first in a series that'll continue from Kennedy's POV (I'm assuming) and the overall storyline, I can understand why that was.
All in all, this was a fabulous start to a new series. I was sucked in right from the start (I LOVE books that have an attention grabbing beginning like this one!) and couldn't put the book down once I started. Even with Kennedy's tendency to repeat things, I still adored her as a character but I loved Jared even more. I can't wait to see what happens next for them and which direction the story ends up heading in.
Overall Impression: I loved it!
*I received a copy of this book from the publisher in return for a fair and honest review.*