Reviewed by Nikyta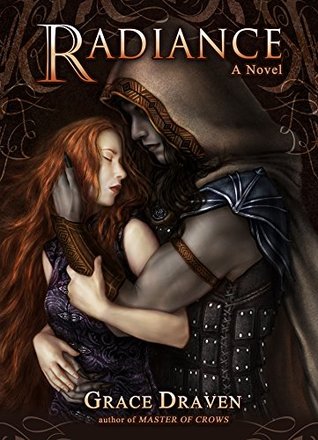 Title: Radiance
Author: Grace Draven
Series: Wraith Kings #1
Hero/Heroine: Brishen & Ildiko
Genre: M/F Fantasy
Length: 297 pages
Publisher: Self-published
Release Date: January 11, 2015
Available at: Amazon
Add it to your shelf: Goodreads
Blurb: THE PRINCE OF NO VALUE
Brishen Khaskem, prince of the Kai, has lived content as the nonessential spare heir to a throne secured many times over. A trade and political alliance between the human kingdom of Gaur and the Kai kingdom of Bast-Haradis requires that he marry a Gauri woman to seal the treaty. Always a dutiful son, Brishen agrees to the marriage and discovers his bride is as ugly as he expected and more beautiful than he could have imagined.
THE NOBLEWOMAN OF NO IMPORTANCE
Ildiko, niece of the Gauri king, has always known her only worth to the royal family lay in a strategic marriage. Resigned to her fate, she is horrified to learn that her intended groom isn't just a foreign aristocrat but the younger prince of a people neither familiar nor human. Bound to her new husband, Ildiko will leave behind all she's known to embrace a man shrouded in darkness but with a soul forged by light.
Two people brought together by the trappings of duty and politics will discover they are destined for each other, even as the powers of a hostile kingdom scheme to tear them apart.

Review:
First, let me just say that I ADORE this cover. I'll freely admit that I'm a cover whore. I've been known to pick a book based solely on the cover and, in fact, I decided to read this one BECAUSE of the cover. I just love the contrast of the characters and how the male's skin color and nails show how not human he is.
As for the story, this one is about Brishen and Ildiko, who are pushed into an arranged marriage to create an alliance. Neither want to be married to the other because their races are so different in not just culture but appearance. Brishen is of the night while Ildiko is of the day. Both find the others' looks repulsive but their personalities allow them to find some common ground within their forced marriage. As the time passes and they spend more and more time together, they slowly start to realize that their feelings have developed to something neither of them expected and what was once hideous is now… radiant.
When I picked up this book, I had NO idea what it was about besides knowing it was M/F, fantasy and had an arranged marriage. Once I started the book, though, I was drawn in immediately because of how refreshing and different the story is. This one isn't about lust at first sight or how attractive the love interest is. The love story in this one is solely based off the characters personalities. They fall in love with each other because of how much joy and fun they have in one another's company. I really loved that about the story because most of the books I read, it's all about how handsome the hero is or how gorgeous and beautiful the heroine is. Ms. Draven went outside the norm and made a story where the heroine found the hero hideous and the hero found the heroine repulsive.
As for the characters, I really loved them together because they started out as friends. But I also liked that Ildiko was so spunky and down to earth. She wasn't a spoiled brat and demanded things but she was adaptive and fierce and had one hell of a sharp tongue! At the same time Brishen was very laid back, too, and, for being such an intense man, was very caring and attentive to Ildiko and her needs. They fit very well as a couple and I loved every minute of them together!
I really, really, really loved this one! But I did have two issues. One, I felt like the dialogue was stilted at times and, while entertaining, a little runoff. Beyond that, I was a bit disappointed in the ending because I felt like it was rushed. We don't get to see any of the preparations of finding Brishen and certainly didn't get to experience his time while he was kidnapped.
In the end, this was like a diamond in the rough. I've heard of Ms. Draven before but never looked into her stories. Now, I'm glad I finally read her because her writing style is definitely engaging and her characters have very strong personalities. I absolutely loved the world and the relationship between Brishen & Ildiko. I can't wait to see what comes next for this series!
Overall Impression: I really liked it!
*I purchased my own, personal copy of this book for review.*