Reviewed by JustJen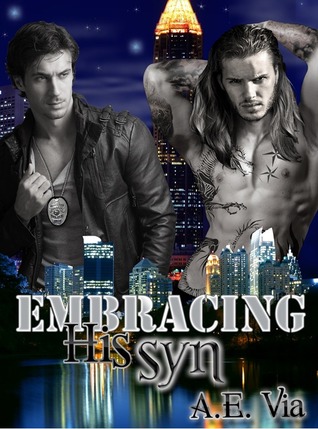 Title: Embracing His Syn
Author: A.E. Via
Heroes: Corbin 'Syn' Sydney/Furious Barkley
Genre: MM Contemporary
Length: 310 Pages
Publisher: Via Star Wings Publishing
Release Date: July 30, 2014
Available at: Amazon and Barnes & Noble
Add it to your shelf: Goodreads
Blurb:  (This story contains characters from previously published novel 'Nothing Special' but Embracing His Syn is a stand-alone novel.)
Sergeant Corbin 'Syn' Sydney transferred from the Philadelphia Police Department as soon as he'd heard there was going to be an opening on Lieutenant Cashel Godfrey and Lieutenant Leonidis Day's Atlanta Narcotics Task Force. Syn's primary goal in his life has been to be a great cop. There has been no time for relationships, romance, or especially love.
Syn was dedicated to his new force, focused and ready to back up God and Day as their third in command, but what he wasn't ready for was the feelings he got from seeing the love they had for each other.
Syn's all prepared to accept his lonely fate until he walks into a small pub and meets long-haired, tattooed, bartender, Furious Barkley. Before he can even understand why, Syn's feeling things he barely recognizes: passion, yearning, cravings; and if the dark, lustful gazes are anything to go by, Furious might be feeling the same things for him.
Just one thing needs to happen before Furi and Syn can give each other what's been missing from their lives for so long…
Syn needs to allow happiness into his world and Furi needs to learn to open his heart and trust again.
God, Day, Ronowski, and Johnson are still as entertaining as ever…
You'll swoon over God's massive take-charge attitude…
You'll laugh hysterically at Day's never-ending wit…
You'll fall in love with Furious' mysterious, sexy demeanor…
and…
You'll embrace Syn…
Disclaimer: This book DOES NOT contain scenes of polygamous sexual pairings.

Review:
Ms. Via sure can write the hot, smexy, growly alphas. There never seems to be a lack of that in any of her stories. Here, Syn has worked hard on his career and now has a chance to really make a name for himself by joining God and Day's task force. If you haven't read their story yet, I highly recommend you do so – Nothing Special.  While they play a part in this story, this can definitely be read as a stand alone.   You may also want to check out You Can See Me, as a few names from that are mentioned here as well.
So, Syn has basically not had time for any relationships up to this point, choosing instead to focus on his career. He realizes he may be missing something in his life that he never thought possible when he sees God and Day together, as well as a few others on the Force. Then he meets Furious, or Furi, and everything changes. Furi makes Syn work for it though for a few reasons. For one, he is afraid of another abusive relationship or being with someone who isn't out and proud. He has had past experiences with men being into sex, then waking up to regret their decision or realizing what they did and then taking it out on Furi.
I really liked these guys, although their names kept throwing me off. Further, I had a difficult time believing Furi's behavior. He was basically a punching bag in his last relationship, yet he is strong and alpha and in charge. My issue is that he just seemed to flip flop too easily into the two roles. I think maybe his not wanting to allow himself to be in that position again was the goal, but it just didn't totally sell me.
I loved seeing the other guys again. Cash and Day, Ronowski and Johnson. I had a little bit of trouble keeping up with Cash and Day this time around, as they both seemed so similar. There wasn't as much of a distinction between the two as I had remembered from their book, but perhaps that is due to their smaller roles in this story.
Overall though, this was a fast-paced, hot smexy story. Aside from Syn and Furi's relationship, there are two other side stories going on – the murders of the male porn stars and the issue over Furi's ex. Yes, it could have used another read-through for editing issues, but, aside from the issues I listed earlier, I was turning pages and flying through this. There is still a lot to love, and Ms. Via remains an auto read for me.
Overall Impression: I really liked it
*I purchased my own, personal copy of this book for review.*