Guest Reviewed by Gyn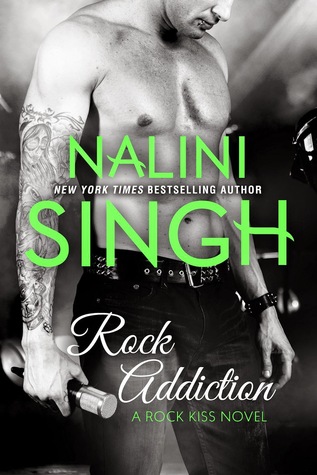 Title: Rock Addiction
Author: Nalini Singh
Series: Rock Kiss #1
Heroine/Hero: Molly Webster/Zachary Fox
Genre: M/F Contemporary
Length: 300+ Pages
Publisher: TKA Distribution
Release Date: September 9, 2014
Available at: Amazon, Kobo and iBooks
Add it to your shelf: Goodreads
Blurb:  A bad boy wrapped in a sexy, muscled, grown-up package might be worth a little risk…
Molly Webster has always followed the rules. After an ugly scandal tore apart her childhood and made her the focus of the media's harsh spotlight, she vowed to live an ordinary life. No fame. No impropriety. No pain. Then she meets Zachary Fox, a tattooed bad boy rocker with a voice like whiskey and sin, and a touch that could become an addiction.
A one-night stand with the hottest rock star on the planet, that's all it was meant to be…
Fox promises scorching heat and dangerous pleasure, coaxing Molly to extend their one-night stand into a one-month fling. After that, he'll be gone forever, his life never again intersecting with her own. Sex and sin and sensual indulgence, all with an expiration date. No ties, no regrets. Too late, Molly realizes it isn't only her body that's become addicted to Fox, but her heart…

Review:
Rock Addiction reminded me of that summer song you hear on the radio. It will make you perk up, sing along and dance in your car, but once it's over, you aren't dying to download it. A huge fan of Nalini Singh's Psy-Changeling and Guild Hunter series, I was very excited for this book, like a tween waiting in line for One Direction tickets! My enthusiasm quickly began to wane though as I waded through a repetitive chorus of insta-love, insta-sex and insta-drama. Thank heavens the tempo picked up a little before the halfway mark and managed to keep me humming along to the tune.
Fox, a millionaire rock god, and Molly, a virgin librarian fall into the sack immediately after they meet. They quickly agree to a one-month stand while Fox's band is in town and then climb between the sheets again. And again. And again. This book is definitely a good beach read as it doesn't take too much effort, and no one will be able to tell it's not the sun that's making you flush and sweaty!
Aside from the copious amounts of sex, there's also some drama with Molly's past that makes it difficult for her to give into anything more with Fox. He quickly breaks down the obstruction, but not by smashing a guitar into it! Fox uses his sexy body and calloused fingers to bring Molly to the dark side of the moon where they, you guessed it, repeat their many performances!
One of the things I did love about Rock Addiction was the imperfect relationship between the characters. They fought and they slammed things and walked out on each other just like real people do. Fox had a temper, and I really enjoyed seeing it play out in moments of dissonance only to eventually lead them back into harmony.
Although I don't feel Singh's shot at contemporary romance came anywhere near her plot and world building epicness when it comes to paranormal, I do feel she built an interesting set of characters in this story. My ears are definitely attuned, listening for sounds of Noah and T-Rex's stories to come!
So if you're a fan of Nalini Singh and hot sex and hunky rockers, pick up the book and strum along! You'll be glad you listened but you might not run out to buy concert tickets any time soon!
Overall Impression: It was good!
*I received a copy of this book from the publisher in return for a fair and honest review.*