Reviewed by Nikyta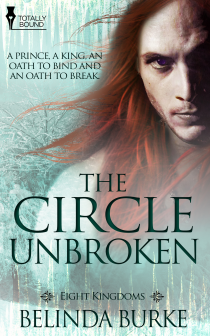 Title: The Circle Unbroken
Author: Belinda Burke
Series: Eight Kingdoms #2
Heroes: Macsen Cadoc/Bran Fionnan
Genre: M/M Fantasy
Length: 55k+ words
Publisher: Totally Bound
Release Date: October 24, 2014 (Now available for early download)
Available at: Totally Bound
Add it to your shelf: Goodreads
Blurb: A prince, a king, an oath to bind and an oath to break. Can something begun in darkness survive the light? Or does the shape of that oath define love…and the circle unbroken?
Three months have passed since Macsen Cadoc's rescue of Bran Fionnan—three mortal months, three days in Macsen's Red Kingdom. Bran has begun to seek a place for himself—as sidhe, as Summer's Prince and as Macsen's consort. The Red King has begun to balance the thirst of his own nature with the love that now moves him just as much. Yet when Bran is reminded of an oath that was made between them when he was just a child, that which has so far held them together may end up tearing them apart.
While the strength of their love is tested, a mortal enemy is once more in motion. Focused only on their destruction, Dealla seeks to step into the place of her dead father–to rule over the Milesians and fulfil the oaths of crown and country. To do so, she must find a way to hurt two foes…one new and openly deadly, the other ancient and its enmity long asleep. Allies appear in unlikely places, armed by their own motives to seek the same destruction Dealla desires…but the price of success may be higher than the cost of failure—higher than any plot or plan allows.
What is the price of an oath fulfilled? Is love born from nothing, or does it wear a path that can be traced?

Review:
It's been only a few days (months to humans) since Macsen rescued Bran from the humans. Days of Bran not doing anything and Macsen fearing Bran will get bored and leave. But while Bran is getting bored, he has no intention of ever leaving Macsen. That is, until Bran meets sidhe from other kingdoms and hears things that question not just Macsen's feelings for him but Macsen's intentions as well. With the threat of Dealla still out there, Bran must come to terms with what he knows and what he doesn't know but when the time comes to learn the truth, will he be able to accept what that, and who, he is?
Where the previous book, Dark Side of the Sun, was all about Macsen finding Bran and rescuing him, this book is about the fragile relationship Bran and Macsen now have. It's about learning the truth about their bond and Bran coming to accept what his new life is like living in the Winter Kingdom. In addition to that, Macsen's last threat to Dealla has haunted her all these months and she'll do everything in her power to kill Bran before he can kill her to the point that her obsession with Bran consumes her.
I still adore Bran and Macsen. They're complete opposites with Bran being the sun and Macsen being the night but they also fit together quite well and are able to give the other what they so desperately need – love, touch, compassion, companionship. I loved that Bran still questions his role at Macsen's side and his struggles to accept Macsen's ways. At the same time, I love that Macsen is this brutal, cruel being but so gentle and caring towards Bran. Many times over the course of the book, it's mentioned how Macsen shouldn't be trusted because he's bound to deceive you. However, the only person he wouldn't dare deceive is Bran and that gave me the warm and fuzzies throughout the book LOL
My only big issue with this one is that the constant POV switches to Dealla irritated me. As a character, I hate her. She's very vindictive and petty but also slightly annoying because she thinks she's entitled to everything. It wasn't just that, though, I felt like Dealla stole the show in this book to the point that her number of POVs seemed to outweigh Macsen and Bran's. Personally, I would have liked less of her and more of our boys because I just felt like they weren't given enough screen time. Of course, this is a personal opinion so others may think differently. Beyond that, there were a few questions left unanswered but I'm guessing those answers will come with the next book.
Even so, this was a great sequel! I really enjoyed getting back to Bran and Macsen and seeing how their relationship is put to the test. I loved that Macsen treats Bran so differently than he would anyone else and how Bran is still so naive when it comes to being sidhe. Be warned, this book doesn't have a conclusion when it comes to the overall conflict but, to me, it wasn't such a huge cliffhanger to really agonize over. I'll be looking forward to the next book in the series, though, because I feel like things are about to get waaaaay more interesting!
Overall Impression: I really liked it!
*I received a copy of this book from the publisher in return for a fair and honest review.*