Accidentally In Love
by Belinda Burke
Hello, and welcome to the corner of the Blogger Girls I've been given today!
I actually had another post entirely written for this, but then this morning – October 10th, a day that will live in infamy – I fell in love. This is not entirely unusual, but I did it having never seen the face of the man in question, while he talked to my friend who was standing in his cabin typing what he said to me. There's a serious dose of the cold flutters in this feeling, but it's still there while I'm writing and I wonder – what is love, anyway? Where on EARTH does it come from?
If you're hoping for an answer, I don't really have one, as my current state of existence might suggest.  I mean really, how did I manage to fall in love with someone who I haven't seen! Whose voice I haven't heard, whose words came to me only through a messenger? Typed, at that! How am I so affected by a stranger who says "pretty eyes", when I'd barely learned his name? Well, I'm not certain, but it's a fact! (The butterflies agree.)
So many times in romance, we read and write tropes and coincidences that seem impossible – like they could never happen in real life. "Love at first sight" is so much a cliché that it's its own catchphrase, and yet even so it's often called out as unbelievable.
I'm here to tell you, as a sufferer of Love at NO sight, that it is definitely, definitely a thing. It is apparently a terrible and wonderful thing, just like love is all by itself – and it influences everything. Everything! The way the world looks, how a certain name tastes…oh, you know you all just said a certain name just to test it!
Despite this experience, I still believe that love isn't magic – that it doesn't come from nowhere really, even if we can't always figure out the origin point, or the moment it started. If it's not love at first sight, is it the second? The third? Or maybe it's love at first kiss – first smile?  Apparently it can even be the first word.
I've gone in deep on this one, fallen in the sense of "yes water feels like concrete from a hundred feet up" – but never fear! I'll be reporting my experience from within the world of the Eight Kingdoms, where love in all its forms is always more than welcome.

About The Circle Unbroken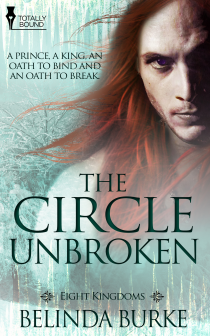 A prince, a king, an oath to bind and an oath to break. Can something begun in darkness survive the light? Or does the shape of that oath define love…and the circle unbroken?
Three months have passed since Macsen Cadoc's rescue of Bran Fionnan—three mortal months, three days in Macsen's Red Kingdom. Bran has begun to seek a place for himself—as sidhe, as Summer's Prince and as Macsen's consort. The Red King has begun to balance the thirst of his own nature with the love that now moves him just as much. Yet when Bran is reminded of an oath that was made between them when he was just a child, that which has so far held them together may end up tearing them apart.
While the strength of their love is tested, a mortal enemy is once more in motion. Focused only on their destruction, Dealla seeks to step into the place of her dead father–to rule over the Milesians and fulfil the oaths of crown and country. To do so, she must find a way to hurt two foes…one new and openly deadly, the other ancient and its enmity long asleep. Allies appear in unlikely places, armed by their own motives to seek the same destruction Dealla desires…but the price of success may be higher than the cost of failure—higher than any plot or plan allows.
What is the price of an oath fulfilled? Is love born from nothing, or does it wear a path that can be traced?
Available at: Totally Bound

About Belinda Burke

I am author, storyteller, poet – property of one cat, perpetual insomniac, and resident of the New England coast of the United States! In my spare time I bemoan the state of the economy, read anything I can get my hands on, and continue my erstwhile pursuit of a double major in Philosophy and English literature.
I'm currently writing for Totally Bound publishing, fulfilling my primary dream of authoring my own books after many years of reading. Currently the bestselling book one of the Eight Kingdoms series, Dark Side of the Sun, is available everywhere. Book two will be available October 24th, and there's plenty more on the horizon! Keep an eye out for Wolf of the West, a stand-alone novel coming in January 2015, and of course, more of the Eight Kingdoms!
Fanmail and questions are always welcome at belindaburkeauthor@gmail.com. Follow me on Facebook or on tumblr at – and keep an eye out for a new website, launching soon!
Belinda has graciously offered up a signed print copy of book one, Dark Side of the Sun, to one lucky winner!! The giveaway starts now and ends October 24, 2014 at 11:59 p.m. To enter, just click the link below!
Please be aware that the only way to enter the giveaway is to click the Rafflecopter link above. Any comments on this post will not count towards entering the giveaway, except to verify your Rafflecopter entry.
Don't forget to check out Nikyta's review of The Circle Unbroken to see what she thought of it!
Good luck!