Reviewed by Nikyta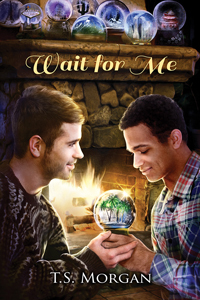 Title: Wait for Me
Author: T.S. Morgan
Series: Celebrate! – 2014 Advent Calendar
Heroes: TJ & Jamie
Genre: M/M Contemporary
Length: 21 pages
Publisher: Dreamspinner Press
Release Date: December 1, 2014
Available at: Dreamspinner Press & Amazon
Add it to your shelf: Goodreads
Blurb: To fulfill his grandfather's final request, TJ Barclay travels to Scotland over Christmas to bury his ashes next to his lost love, so they can be together at last. While there, he meets Jamie, the orphaned grandson of the man his grandfather loved sixty years ago, before circumstances tore them apart. Concerned for Jamie, TJ can't leave Scotland without knowing he's all right. Neither man expected a love story from the past to ignite a new one in the present.
A story from the Dreamspinner Press 2014 Advent Calendar package "Celebrate!".
Review:
When his grandfather dies, TJ is left with fulfilling his dying wish – being buried in Scotland next to the man he loved in his youth. When there, TJ feels compelled to check up on the grandson of the man his grandfather loved. Meeting Jamie changes everything for TJ and the attraction between the two might just have them forgetting the fact neither of them is gay.
This one had a lot of potential but I felt like it was much too short for the elements in it. First off, it's a story with a double gay for you. Normally, I have no issues with gay for you stories but because of the length of the story, there was no exploration into both TJ & Jamie's all of a sudden being attracted to each other.
I felt like if both of them had been gay in general, the story would have been much better but that little detail about their sexualities really put a damper on the story. Add to that, there's no depth to this story because it's short. There's no exploration into TJ & Jamie as characters or into their lives together so it was hard to connect or even enjoy the story much because of that.
With that said, it wasn't a 'bad' story, it had a lot of potential, but the book is too short to explore things fully especially because of the double gay for you. If this one had been much longer or didn't have the gay for you in it, it would have been more enjoyable. BUT I do think readers should decide for themselves if they'll like this story or not by giving it a try anyway. Some readers may not care for the lack of development or explanation and I encourage those readers to give this one a go 🙂
Overall Impression: It was okay
*I received a copy of this book from the publisher in return for a fair and honest review.*