Reviewed by Susan65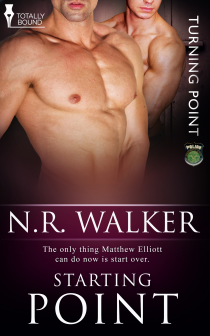 Title: Starting Point
Author: N.R. Walker
Series: Turning Point #3
Heroes: Kira Franco and Matt Elliott
Genre: M/M Contemporary
Length: 234 Pages
Publisher: Totally Bound
Release Date: May 23, 2014
Available at: Totally Bound
Add it to your shelf: Goodreads
Blurb: After going past the point of no return and finally reaching breaking point, the only thing Matthew Elliott can do now is start over.
Matthew Elliott is a recovering man. As an ex-cop and ex-fighter, his new job teaching kids at the local community gym about drug awareness and self-defence, is a little bit of both. His new focus on helping street kids is helping him heal, and with Kira by his side, he's making strides.
Brother and sister, Rueben and Claudia, are homeless kids and they're very much alone. As they strike a chord with Matt, he does everything in his power to help them.
But when Ruby and Claude need more help than he bargained for, it stops being about work, and starts being about home.
The day he met Kira, Matt's life changed direction, and it's only now he realises that everything he's been through was a lead up to this. It was never about endings. His life, his purpose, was just beginning.
Review:
I have been a huge Matt and Kira fan since the beginning of this series and am really sad that it's come to an end. But, I am not sad that life seems to have come full circle and they are now on the fast track to their HEA. They had suffered tremendously in the first two books and this one ends on a high note…a very high note.
Seriously, they've adopted a dog! What says forever more than a dog? And the dog is special…how absolutely perfect for them. I think the dog was my favorite part…and I don't even have a dog!
But this story is not all happy, happy, joy, joy. Matt is still in recovery from his cage fighting; still dealing with the mental and physical trauma that left behind. Kira, as per usual where Mr. Perfect is concerned, is just a solid rock that keeps Matt straight. Well, not exactly straight because these two know how to light up a bedroom, DAYUM.
But anyhoo, trouble seems to come looking for these two and this story is no different. The only difference is that they are trying to help kids this go round, street kids, and a brother and sister to be exact. Claude is a 9 year old little girl and her brother Ruby is 13. They have it rough, I mean, they have absolutely nothing and no one to take care of them. Matt and, by extension, Kira take them under their wings, but it's not easy and trouble is a brewing. It becomes a little sad…expected but sad nonetheless. I hate to think of little kids being homeless and alone. Matt and Kira do what they can, but it's not always enough. No spoilers but take my word for it, it is not pretty.
But, the ending, oh my goodness; that ending. I so love Kira's parents and having them there at the end when they get the "news" is so beautiful and such a lovely way to end the saga that is Matt and Kira.
Sniff Sniff…I will miss them.
Overall Impression: I really like it
*I received a copy of this book from the publisher in return for a fair and honest review.*