Reviewed by Susan65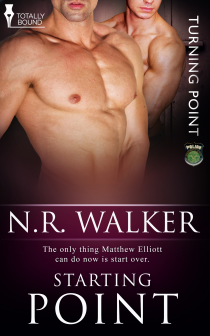 Title: Starting Point
Author: N.R. Walker
Series: Turning Point #3
Heroes: Kira Franco and Matt Elliott
Genre: M/M Contemporary
Length: 234 Pages
Publisher: Totally Bound
Release Date: May 23, 2014
Available at: Totally Bound
Add it to your shelf: Goodreads
Blurb: After going past the point of no return and finally reaching breaking point, the only thing Matthew Elliott can do now is start over.
Matthew Elliott is a recovering man. As an ex-cop and ex-fighter, his new job teaching kids at the local community gym about drug awareness and self-defence, is a little bit of both. His new focus on helping street kids is helping him heal, and with Kira by his side, he's making strides.
Brother and sister, Rueben and Claudia, are homeless kids and they're very much alone. As they strike a chord with Matt, he does everything in his power to help them.
But when Ruby and Claude need more help than he bargained for, it stops being about work, and starts being about home.
The day he met Kira, Matt's life changed direction, and it's only now he realises that everything he's been through was a lead up to this. It was never about endings. His life, his purpose, was just beginning.