Confessions of a Newbie
by JJ Black
I have a confession…I'm a virgin.
What? No! Get your mind out of the gutter. We're talking about conventions here. That's right. I am a convention newbie. No RT, no Comic-Con, no AEE for me. Pure and untouched as the driven snow, here… okay, I knew that was pushing it too far.
All joking aside, I'm a little nervous but really excited. I'm very new to the publishing world so I was hesitant to sign up as a Supporting Author. I was worried that it was too soon, that I was too new, to attend as an author. My inner turmoil was angsty and ridiculous so I'll save you the headache. Long story short, the debate was finally ended by my very sensible sister asking, "Have you written a book that's been published? Yes? Then shut up, you're an author." Gotta love that girl!
So, here we are. GRL is just a few months away and the excitement is building. The fact that it's in Chicago, just a few hours away, couldn't be more perfect. I'm not really sure what to expect but, from all the stories I've heard over the last year, I'm anticipating a weekend full of fun and shenanigans, great authors and amazing readers. Authors are my rock stars so you know I'm gonna totally fan-girl it up. I can't wait!
As some of you may know, blogging makes me nervous. I can make up a world of demons but ask me to sit down and talk about myself? You might as well ask me to do quantum physics and learn to speak Swahili in a day. I wouldn't even know where to begin. That being said, a few weeks ago I enlisted the help of some amazing fans who saved my blogging butt and gave me some questions they thought would help people get to know me better. They had some great ideas and I can't thank them enough.
What authors are you most excited to meet and why? Mary Calmes and Amber Kell. Mary Calmes is my go-to for comfort reading. Whenever I'm down or need some inspiration, I always look for one of her books. Amber Kell has an imagination and drive that I can only dream of having. She juggles multiple series flawlessly and makes it look easy.
What led you to write M/M romance?  Men are a mystery. I've always wondered how they feel when they're in relationships. I love the idea of strong men who fall in love with each other and aren't afraid to show that love to each other and the world.
Why paranormal romance and have you thought about writing a different genre? I love paranormal romance because I'm not great at following rules. With PNR, you're free to create whatever you can imagine and not be concerned if it could happen in real life. I am definitely open to writing in another genre if the right story came to me.
What are three things that people should know about you? 1.) Coffee is one of my main food groups. If I haven't had any, approach at your own risk.  2.) I hate sprinkles.  3.) I have a slightly obsessive love of both, Resident Evil and Harry Potter movies.
If someone were to look at your search engine today, what would they find? Michigan cougars (not the kind you are thinking of J ), history of banshees, fairy wings, flights to Hawaii (my sister just moved there and I'm already planning my visit), hot male gingers (challenge accepted and won!)
Well, that's it for me. I want to thank The Blogger Girls for letting me stop by for a visit and I'm looking forward to seeing everybody in October!
About Our Omega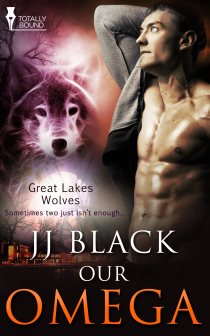 Sometimes two just isn't enough.
Noah Steele is a broken man. Though born a strong, confident Alpha, the torture and betrayal he experienced by order of his own father have left him a shell of the man he once was. Still gripped by the fear left in the wake of his trauma, he no longer trusts his instincts or his ability to lead. Shamed, he hides himself away, even from the mate he longs to claim as his own.
Dax Marshall needs some downtime. Between protecting the Pack in his role as Beta and leading teams to search for more of Alpha Steele's facilities, his responsibilities are starting to overwhelm him. If only he could find the one person destined to soothe both himself and his wolf.
Between dominant wolves, power struggles are always an issue. Time and patience will be needed to make their mating work. Unfortunately, time is in short supply. New information has Dax, Noah and a team following a lead to a breeding facility—and much more. Among the prisoners, they find an abused young man who calls to them both in a way that neither of them understands.
While they scramble to adjust to fate's curveball, more information comes to light showing just how far Alpha Steele is willing to go in his quest to rule the Packs. Will their new happiness withstand the madman's plans or be destroyed by the malevolence of his ambition?
Available at: Totally Bound

About the Author
Born and raised in Western Michigan, JJ Black's love of books has only grown with age.  Always a fan of supernatural fiction and romance, she stumbled across the M/M genre and has never looked back.
You can usually find JJ curled up with a book, attempting to teach her muse a little direction, or stressing over edits that still need to be done.
You can find JJ at her Website, Facebook or contact her via email at jjblack_books@yahoo.com.
JJ has kindly offered up reader's choice of one signed paperback copy of either Accepting the Alpha, Ask the Oracle, or Our Omega as the prize for this giveaway! To enter, just click the link below! Giveaway ends Thursday, June 26, 2014 at 11:59 pm.
Please be aware that the only way to enter the giveaway is to click the Rafflecopter link above. Any comments on this post will not count towards entering the giveaway, except to verify your Rafflecopter entry.
Good luck!