Guest Reviewed by Morgan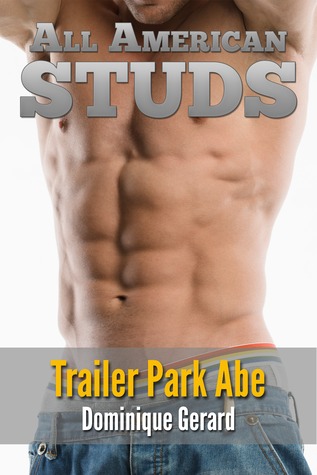 Title: Trailer Park Abe
Author: Dominique Gerard
Series: All American Studs #1
Heroes: Atwood and Reece
Genre: M/M Contemporary
Length: 62 Pages
Publisher: Dominique Gerard
Release Date: August 4, 2014
Available at:  Amazon and Barnes & Noble
Add it to your shelf: Goodreads
Blurb:  Atwood was meant to achieve great things in his life. Instead, he had a shotgun wedding to his high-school sweetheart Jessica, and wound up slaving away every night, working six days a week in a meat packing factory to support his new trailer park family. His wife's been cheating on him. Their house is a dump. He's given up all hope of a better life when his brother-in-law comes up with a plan for Atwood to earn them a stash of easy cash … as an amateur performer on All American Studs, the hottest gay website on the internet. He takes on the role of Abe, a sophomore football jock in college. The solo video is a hit and he's invited back to film a duo, which comes with a far bigger payday. This could be Atwood's chance to leave the trailer park behind, and he might just find true love along the way.

Review:
Atwood is married to his high school sweetheart (she got pregnant then lost the baby) with whom he has mostly hated for the last several years. She is a drug addicted, cheating, horrible person who uses Atwood mercilessly. She even drags in her family to use Atwood as well.
She pushes Atwood into gay-for-pay porn to help supplement her drug habit, then berates him as a "fag" for doing it. (You can tell, she's pretty awesome – NOT!)
Somewhere during this, Atwood finds his balls and leaves her, just as he is about to move forward from the more tame "solo" work he had been doing to the more "involved" work of doing a scene with another man.
The two men really hit it off, and Atwood decides he is probably gay, and the two start off a tentative relationship from there.
This is a short story, and as such, has the benefits and problems of any piece with a limited length to develop a story. Given that, the author spent a lot of time setting up Atwood's plight – horrible, awful, sad, sad, sad. Then the second half of the story is basically his big sexual discovery session with Reece.
A small snippet is the burgeoning relationship between him and Reece and the idea that there might be something for Atwood to move on to from his horrible (soon to be ex) wife.
Some short stories are great – they use a small amount of words to tell a big story. Some short stories are merely elongated fantasies, with a few more details thrown in for padding. This is one of the latter. It's not a bad story, the sex is hot, the premise is interesting, and the fact that you really feel for Atwood is a plus. However, the ending, as it were, left a lot to be desired. It was just unsatisfying. I really wanted to know more about how Atwood came to accept his life as a "gay" man, if he even really considered himself gay or not.
I wanted to give it a 2.5 – it was okay, but the sex really was super hot – so I upped it to a 3. If you're interested in a short but hot story, with a minimum of angst or emotion, this is your story!
Overall Impression: It was good!
*I received a copy of this book from the author in return for a fair and honest review.*