Always Looking Ahead
by Devon Rhodes
Thanks to The Blogger Girls for having me on today to talk about one of my favorite topics—the GayRomLit Retreat! ☺
It occurred to me this summer that while most authors going to GRL were still considering what to order or bring or buy or pack for this year's GRL in Chicago, I might be one of few already putting plans in motion for 2015's GRL…wherever it might be! Let me explain.
I've been to all of the GRLs so far, and really don't see myself ever NOT going. I love GayRomLit. I remember even before the first one in New Orleans when Carol and Ethan first conceived of the idea, and that was the first conference or meeting of any sort that I ever went to after becoming a writer. So it will always have a special place in my heart.
It was also a place where I met so many people that I now consider to be personal friends, including people I now collaborate on projects with and write with, including Carol Lynne, Amber Kell, Stephani Hecht, Jambrea Jo Jones and of course, my co-author of many books since, TA Chase. And yes—it still makes me fangurl sometimes thinking that I've actually worked with all these women!
I was shortly after that first GayRomLit that I had a dream. Literally. I dreamt that I'd been in an anthology with a lot of the great authors I'd gotten to know in person at GRL. So the next morning, I posted on FB to a few of the authors I'd dreamed of about how I'd had this dream, and wouldn't it be fun to make it a reality?
Well, that got things going, and since we're all published at Totally Bound, I approached them with the concept. They were as excited as we were about it, and let us have a great deal of control over the concept, making sure we had a release date before the following year's GRL in Albuquerque.

All of the authors I asked said yes right away, even though I know most of them had a ton of other projects going on, and many don't write short stories very often. And I just love how they all let their own unique style and creativity come out to play. Other than the fact that we all write MM and wanted a general, central theme of conventions, we all sort of went to our strengths as far as subgenres and heat levels with that first anthology. That was Unconventional At Best.
We really loved the result, so after we got some good feedback after GRL Albuquerque, we sat there having lunch in a Hard Rock restaurant the day GRL ended and starting throwing ideas around for an anth for the following year in Atlanta. For that year, we thought it would be fun to write romances set in the conference hotel. Since Carol had been there, she helped us with details, and we wrote stories about fictional attendees and hotel employees finding love, and shared our characters in each other's books. Unconventional in Atlanta was a lot of fun for us and thankfully our readers enjoyed it as well! ☺
GRL Atlanta wasn't even over when we started talking about the next year's anthology. We came up with a slightly darker turn, setting it in an alternate reality where mobs and gangs ruled Chicago in modern times. Carol unfortunately had to bow out for the third anthology—such a busy woman!—but the other five of us came up with a chronological series of stories following a group of men trying to save their city in An Unconventional Chicago.
So here we are, a month away from GRL Chicago…and we're already looking ahead to GRL 2015 and planning yet another Unconventional anthology. We're going to go paranormal for this next one and two of the authors have already started their stories! We have a concept that we think will work wherever the announced location is, so no reason not to get a jump start! ☺
I'm just so honored to be working with these fabulous women, and I really can't wait to see everyone next month. To kick off the celebration early, I'd love to give ebook copies of all three Unconventional anthologies away to one lucky winner!  Just follow The Blogger Girls' instructions to enter, and good luck! ☺
❤ Devon

About An Unconventional Chicago Anthology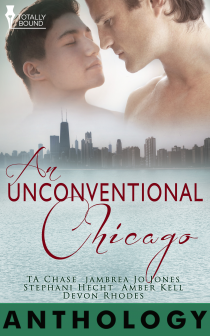 No Bravery by T.A. Chase
A man looking for revenge discovers a man who wants to save a city.
Farris O'Laughlin has been back in Chicago for five years. He'd spent thirteen years before his return in a mental asylum after his brother had him committed for 'insanity'. Farris plots revenge in the way he knows will hurt his brother the most—bringing down the family business.
Darien Shaunessy is Farris' new driver and guard. He's around to keep Farris in line…or so Farris' brother thinks. Darien has his own reasons for working for the O'Laughlins, but Farris wasn't part of his plan.
When two men from different parts of the city come together, powerful men could lose their wealth and control. And the lovers could find bravery they never thought they possessed.
Love Don't Die by Jambrea Jo Jones
They might die, but their love never will…
Moran Schultz was tasked with getting information from one ward to another. He was all for helping his brother make Chicago a better place. What he wasn't expecting was his lover to show up after a month of no contact.
Dutch Luciano isn't going to let Moran go without a fight. They love each other and the gangs in charge of Chicago aren't going to keep them apart.
Can Moran let Dutch back in or is it too dangerous? More than Chicago is on the line. Will love be strong enough to survive?
Passion Under Fire by Stephani Hecht
Can their love overcome the danger coming their way, or are they doomed to die?
Georgio is the third son in a powerful mob family, but he has never agreed with their violent or illegal ways, so he joins the resistance in an attempt to right the wrongs that his family has done. But, by doing so, he puts himself at great risk of getting caught. And if he is, his older brothers would have no problem ordering him executed, their sibling or not.
Tito is a runner for the family. While he hates the gang, he has a sick brother at home to take care of, so he has to take the job because it pays so well. The last thing Tito expects is to form an attachment to Georgio.
While Georgio tries to deny his feelings for Tito, he finds himself drawn to him as well. But, if they were to be caught together, they could be killed on the spot. Will their love be able to survive so many obstacles? Or can they find a way to happiness?
Ganging Up on Love by Amber Kell
New love can bring new dangers.
When Dirk volunteered to take the information to the resistance, he didn't know he'd find his perfect match in their leader. Determined to find a place among them, he offers to help wherever he can.
Leon has always been alone, afraid of trusting anyone with his affection. When the visitor from Ward Three comes in with important information to bring down the mob bosses, he doesn't know how to handle their instant attraction.
When outside dangers threaten to tear them apart, will their new love be enough to keep them together?
Bonfire Heart by Devon Rhodes
Sometimes fires burn and destroy, but from the ashes, new growth can heal and cleanse.
Thierry Alexander is the deputy mayor of Chicago, a city he loves but can't save on his own from the corrupt political system. His assistant and lover, Eduardo, is also known as Cesar, the head of the underground resistance movement. He has been working behind the scenes for years and finally gets what he needs—enough information to get the US government involved and take down the criminal elements strangling the city he loves.
But they need to act fast because legislation is about to be enacted that will give rise to social and ethnic purging in Chicago. Not knowing who they can trust, they will have to put their faith in one another and risk everything to save a city.
An Unconventional Chicago is available at Totally Bound, Amazon, ARe and B&N.

About Devon Rhodes
When I'm not lost in my imagination, you can find me in beautiful Oregon or at my Website, Blog, Facebook or Twitter.
As part of her GRL stop, Devon's giving away ebook copies of all three Unconventional anthologies to one lucky winner! The giveaway starts now and will end next Monday, September 22, 2014, at 11:59 pm EST. After which the lucky winner will be randomly picked. To enter, just click the link below!
Please be aware that the only way to enter the giveaway is to click the Rafflecopter link above. Any comments on this post will not count towards entering the giveaway, except to verify your Rafflecopter entry.
Good luck!