Romancing by Words
by Talia Carmichael
I love romance and all that it entails. As each part unfolds I can't wait to take part and enjoy it. There are so many things that follow people falling in love. It's a journey for them to meld their lives together. As I write each word on a page I want to draw the reader in and make them part of the fabric of the story. I want them to feel, live and be part of the story. Capturing the mind, heart and soul of a reader is my goal just as it is my characters on their journey to fall in love.
Words have power and the usage of them takes skill. When I read books I want to be drawn into the words and see everything play out in my mind. Romance can range from being a subtle foray to all out I want you.  The teasing and banter back and forth between people can be so sexy. Using words to tease and tantalize. There is so much that can be revealed from sensual banter. A tease between characters that leads to sparks.
Best Laid Intentions (Impressions #6) has that banter and teasing with words. My heroes are both attracted to each other. But, when the book starts they haven't come out and said so…yet. When they do it's a melding of two likeminded people. They want each other. It is so interesting to see their interactions that lead to more. The using of words to build the romance was fun to do. Savage is a musician who uses his music to portray what he feels. He's also good at stating what he desires once he knows what he wants. This works well with the other hero, Taylor. He owns a music store and he wants Savage, however he knows it can't be anything but sexual. Taylor is more than willing to be with Savage except he finds himself wondering if it is a good idea. Savage awakened feelings in him that he doesn't expect.
These two men use playful teases and interactions to get to know each other. They joke and are so comfortable with each other. With each conversation their romance is built word by word, which is the sexiest of things to me. Seducing the mind with words first then everything after will bring a deeper connection. I always enjoy romancing with words.

About Best Laid Intentions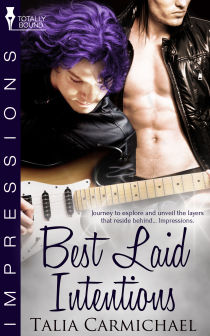 This is book six in the Impressions series, see the full series listing here.
Taking a risk and going after what he wants leads a man to the most pleasurable of results…
Taylor Noble decides to take a chance on pursuing Savage. Savage makes him crave but Taylor knows that anything beyond the physical would be foolish. He has too much on his plate for a relationship. But he can have a good time… After all, there's no way Savage would want more. And Taylor certainly doesn't either… Yet, as he gets to know Savage, Taylor finds himself questioning his plans for fun with no strings.
From their very first meeting, Savage Griffin is drawn to Taylor. There's something Savage cannot define that's so different when he sees, thinks or talks to Taylor. Knowing Taylor is interested gives him the opportunity to explore more about this man who has captured his attention. Savage plans to take advantage of it. Each and every moment—sexual and platonic—brings him closer to Taylor, who captures all his senses. Now it's just a matter of convincing Taylor that what they share goes way past the physical to the emotional. Yes, emotions are messy but Savage is ready, willing and able to get Taylor to change his best laid intentions and make some new plans.
Available at: Totally Bound

About Talia Carmichael

Talia Carmichael is a romantic who believes that family, no matter if it is by blood or those you choose as family, is integral to who you are. She is an author who writes sexy stories in a variety of genres. She believes in creating stories that encompass all that falling in love or lust entails, from the highs of that first blush of attraction to the lows of not knowing if you can make your coming together as a couple work, and then finally to the acceptance of the reality of making a life together. It's all about the journey.
Among her books you'll find contemporary, futuristic, fantasy, and paranormal settings with M/M themes that will have a happily-ever-after. Her books are passionate, intense, and real… to fill the craving.
Find out more about Talia on her Website, Blog, Facebook, Twitter or contact her here.