An Exclusive Excerpt from Out of CTRL
Just as they reached the door, it opened and another enormous man stepped through it. Do they only let genetically superior beings in here?
In the doorway stood the most handsome man he'd ever seen—in his entire life.
Andrew was so busy admiring the newcomer that he didn't hear Steve talking to him until he was nudged and given a weird look. The man was at least six-foot-seven and had massive shoulders and biceps that stretched the navy T-shirt he wore to the absolute limit.
Andrew experienced the weirdest sense of recognition but he was certain he'd have remembered meeting this man before.
The fellow offered him a warm smile with perfect teeth and the most familiar dimple on the left side of his mouth. Sandy blond hair kissed the top of perfectly curved ears, the strands sticking up at odd angles, probably from a fire helmet. Eyes bluer than the whole damn Mediterranean Sea stared down at Andrew with shock and gave him an even stronger sense of déjà vu.
"Huh?" Andrew blurted.
Steve gave him the look again that told him they were going to talk about this later. "I said do you want to meet my groomsman?"
"Uh yeah, sure," he answered distractedly.
"Theodore I want you to meet—"
The man—Theodore—brushed aside Steve's introduction with one giant hand. "I know who he is, Steve. It's been a long time, Drew."
There was no mistaking that voice. Andrew might not recognize the body—and damn what a body it was—but no one could fake that voice. Rich, deep, and just the right note of sweet and sexy to make Andrew want to drop to his knees and find religion.

About Out of CTRL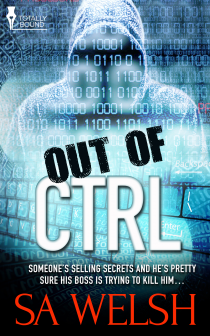 Andrew had no intention of ever going back home. But circumstances force him to face his painful past and the friend who betrayed him. Andrew Finley has no intention of going back to his hometown—ever. After he's caught hacking into the CIA, he builds himself a new life as a computer guy for the very government agency he hacked. But over the past few months, something has been bothering him, and his boss is acting more paranoid than usual. Every time an operation fails, Andrew collects information that could prove someone is selling secrets. Now he's pretty sure his boss is trying to kill him, so he has no choice but to go back home to buy some time. Home may be more dangerous than facing his boss. Nine years ago, his former best friend and first crush Teddy betrayed him, and let his evil sister and her minions send him running.
But he's back now and not everything is as clear-cut as he thought. Teddy may not be a Judas but can Andrew catch his fireman without getting burned, or is coming home going to kill him?
One corrupt boss, one evil sister, enough family drama to fill a dozen daytime chat shows and an ex-best friend whom he's been in love with for half his life makes for one hell of an interesting trip home.
Available at: Totally Bound & Amazon

About SA Welsh

I'm SA Welsh and I write because the voices in my head keep making me. I love reading and I love letting the characters and stories in my head come to life in a book. I can't function in the morning without a cup of tea and when I'm not writing I'm reading. I have enough books to last me through an apocalypse but don't ask me to share them unless you are a fellow book worm and know how to treat and appreciate a good book. It is thanks to the writers that inspired me to put myself out there that I became an author and the editors that make sense of my chaos that I keep writing. You can find me on Facebook or on my Website.
As part of this blog tour, SA is giving away an eBook copy of Out of CTRL! To enter, just click the link below!
Please be aware that the only way to enter the giveaway is to click the Rafflecopter link above. Any comments on this post will not count towards entering the giveaway unless otherwise stated but are still welcome anyway.
Good luck!