Inspiration for Loving the Master
by Lynn Kelling
Loving the Master is the story of David and Shea—a wealthy, powerful Dominant and a clumsy, geeky, near-homeless teenage waiter—how they met and what happened after they did. These two first came to life in the novel, Bound by Lies. They were secondary characters adding seductive mystery to the life of Jenner Parrish, a former high school football star turned bar owner, who also happens to be a deeply closeted Dominant using a web of lies to maintain absolute privacy. David was the rich, charismatic older man who trained Jenner in the art of BDSM and domination. Shea was David's fiercely protected collared submissive and long-time partner. In Bound by Lies, we briefly met David, but not Shea. We knew, however, that David and Shea had both enjoyed intimate closeness with Jenner during his training, and that Manse, David's privately owned and operated gay club and BDSM playground, was a world Jenner couldn't help but go back to explore over and over again.
Writing Bound by Lies left me wanting to know more about David and Shea. With David's money, power and status, what kind of man would he choose to devote himself? Who would capture David's heart so desperately that he'd do anything to keep this mystifying submissive safe, living for years as the most cherished and secreted-away part of David's vast world?
Next, I wrote the novella, Learning from the Master, prequel to Bound by Lies and sequel to my new release, Loving the Master. There we finally got a look at David and Shea's dynamic, as well as how Jenner was chosen as David's protégé, yet it didn't tell their story as completely as I knew it needed to be told.
Loving the Master is a tale of opposites – a young, headstrong CEO with the world at his fingertips faced with an awkward comic book geek with a heart of gold. As much as Shea loves his superheroes, it was the fairy tale Cinderella that most directly inspired this story. That was just the starting point, though. Whether he likes it or not, David has been cast in the role of Prince Charming, with everything that entails to live up to. He has an image to uphold and an empire to run, when all he really wants is someone waiting for him at the end of his very long days without any hidden motives, wondering how he's doing and ready to hold his hand without any mind paid to David's titles or legacy. He's searching for someone who will appreciate him as a person, first and foremost. Shea, on the other hand, is an unlikely Cinderella. He's not after money or fame. He's not particularly good at anything or a spectacular physical specimen. All he wants is for his long streak of bad luck to run out so he can finally get his feet firmly planted under him. There is no magical transformation that will smooth out all of Shea's flaws. There's only the pair of these two young men in vastly different extraordinary circumstances, seeking quite sincerely to find some very basic things in order to attain a shockingly normal kind of happiness.
I wrote this story while working on a few others with particularly dark themes, and while dealing with some traumatic events in my personal life. David and Shea helped me find a happy escape from all of that. They made me laugh and fall in love. In a strange, unforeseen and heartbreaking turn of fate, between writing this book and editing it, I lost my youngest brother. However, David and Shea had both already endured the loss of a sibling. As I read back through the story, I found them giving me advice on how to cope and showing me how to pick myself up to keep going. It was a little bit of magic for which I'll always be grateful. These two guys are near and dear to my heart. I hope my readers enjoy them as much as I have.

About Loving the Master
Billionaire Dominant David Davenport needs a break from the loveless isolation imposed by wealth, responsibility, and the stress of running the Manse, his private gay club. While at lunch with an old friend, David finds himself enchanted by the charming and submissive nature of Shea Whittier, their young waiter. David offers to help the young man out with his personal troubles, never suspecting the danger he's putting them both in.
Available at: Forbidden Fiction & Amazon

About Lynn Kelling
Lynn Kelling began writing in order to tell stories that aren't afraid of the dark, don't hold anything back and always strive to be memorable, forging lasting attachments between character and reader. Her inspiration comes from taking a closer look at behaviors and ideas lurking at the fringes of life—basically anything that people may hesitate to speak of in mixed company, but everyone wonders about anyway. Her work is driven by the taboo in order to expose the humanity within it. Lynn is an artist, designer and lover of any form of creative self-expression that comes from a place of honesty and emotion, whether it's body art or opera. She has had multiple novels published, has written over seventy works of erotic fiction of varying lengths, and always has several novels in progress.
Find out more about Lynn on her Website, Facebook, Twitter, Goodreads or email her at lynn@lynnkelling.com
As part of this blog tour, Lynn is giving away 1 set of paperbacks of both Bound by Lies & Loving the Master!! To enter, just click the link below!
She's also giving away 1 paperback copy of Loving the Master on Goodreads! To enter, just click the link below!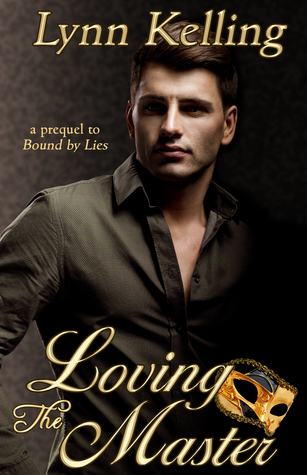 Please be aware that the only way to enter the giveaway is to click the Rafflecopter link above. Any comments on this post will not count towards entering the giveaway unless otherwise stated but are still welcome anyway.
Don't forget to check out JustJen's review of Loving the Master to see what she thought of it!
Good luck!