An Excerpt from Studio Orders
by Morticia Knight
"Stand straight, arms at your side. Shoulders back. Display that beautiful cock for me."

His arousal had waned when he'd become distracted by the pyjamas, but Vincent's words had him right at the edge again. His shaft jutted proudly, angling to the ceiling. Vincent approached him, and reached beneath his leaking erection to grasp his balls. He massaged them, toyed with them until the tears came back to prick the corners of his eyes again.

Still. All I need to do is stay still.

Vincent presented a finger from his free hand to Juan.

"Suck it."

Juan took it in his mouth, hungry to give some of the raw energy building deep within him any kind of an outlet.

"That's enough."

Vincent removed the finger, and Juan was so lost in some nameless universe that he jumped at the sensation of Vincent's touch between his crease. Vincent used the moistened digit to push and prod Juan's tight entrance.

Oh, he's going to…

With a pop, Juan's channel was filled, Vincent using his long finger to stroke him from the inside. As he delved deeper into Juan's ass, he brushed nerves that threatened to make Juan break his promise not to come until Vincent allowed. He thrust once before he could stop himself.

"That's one spanking."

What?

Juan stilled again. His breathing increased in intensity. Somehow, he thought if he could concentrate on that, he wouldn't break any of Vincent's rules. Vincent twisted the finger inside of him and crooked it just so. Vincent wiggled his digit over that sensitive cluster and Juan groaned, pumping his hips twice before he realised what he'd done.

"Now you have three spankings."

Whimpers fell from Juan's lips. They were sounds he'd never made before, but it couldn't be helped. He was falling, falling, falling and he needed Vincent to catch him.

"Sir, I'm begging you. I need you. I need…"

He had no idea what he reached for. Everything. And only Vincent could give it to him.
About Studio Orders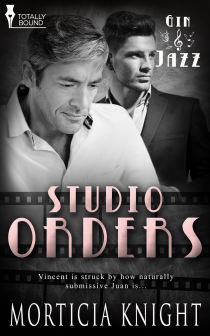 The head of Global Pictures Studios, Vincent Franklin, promised Jack Stone that he would take care of Jack's loyal driver, Juan. But for a dominant man like Vincent, Juan's natural submissiveness causes him to long for much more from the shy young man.
Juan is devastated when his only friend, film star Jack Stone, leaves Hollywood for good. Lonely most of his life, the shy young man has dreamt of love, only to have his heart broken repeatedly. Before he left, Jack made certain that Juan would be taken care of by asking his ex-boss, studio chief Vincent Franklin, to hire him on.
Vincent Franklin is an incredibly controlled and meticulous man. Not given to emotional outbursts and unnecessary flights of fancy, his temperament is ideal for the stressful and demanding job as head of Global Pictures Studio. He leads a carefully concealed private life, his only social outlet being the sadomasochism club to which he belongs. When Jack introduces him to his handsome chauffeur Juan, he is struck by how naturally submissive Juan is. He wonders…
Soon, Juan is falling for the elegant, older man that is his new boss. He's also thrilled when Vincent asks him to be his personal valet. But there are things that Vincent demands of a lover that Juan knows nothing about. Things that could make him run away from the man who would do anything to protect and care for him.
Available at: Totally Bound
About Morticia Knight
M/M Erotic Romance author Morticia Knight enjoys a good saucy tale – after all, who doesn't? Since she loves several genres, you may find your heroes in a contemporary, historical, paranormal or sci-fi setting. One of her passions is bringing people's fantasies to life on the page, because life is too short for even one boring moment. Her stories are volcanic in heat, deep in emotion, and sprinkled with doses of humor.
When not indulging in her obsession for books, she loves the outdoors, film and music. The Pacific Northwest is the ideal spot to enjoy both hiking and beachcombing. Once upon a time she was the singer in an indie rock band that toured the West Coast and charted on U.S. college radio. She now resides on the northern coast of Oregon, where the constant rain and fog remind her of visits to family in England and Scotland when she was a child.
She is currently working on the Gin & Jazz series about the glitz and glamour of 1920's Hollywood and additional installments of the Uniform Encounters series.
The prize in this blog tour is a PDF copy of Studio Orders and signed swag. To enter, just click the link below!
Please be aware that the only way to enter the giveaway is to click the Rafflecopter link above. Any comments on this post will not count towards entering the giveaway.
Don't forget to check out JustJen's review of Studio Orders to see what she thought of it!
Good luck!