Reviewed by Nikyta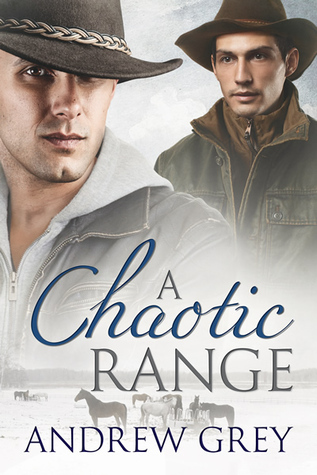 Title: A Chaotic Range
Author: Andrew Grey
Series: Range #7
Heroes: David/Brian
Genre: M/M Contemporary
Length: 200 pages
Publisher: Dreamspinner Press
Release Date: November 7, 2014
Available at: Dreamspinner Press, Amazon and Barnes & Noble
Add it to your shelf: Goodreads
Blurb: Most of the time ranchhand David rescues stray cattle, but this time he and his fellow cowboys Wally and Haven save a stranded motorist. David is surprised to find his former high school classmate nearly frozen in his car. After learning that Brian Applewright's boss fired him from his ranch for being gay, they invite him back to theirs to take a job.
David and Brian moved in different social circles at school, but working together brings them closer. However, David has a rocky history on the ranch. The foreman is his ex, and he only recently returned after a heartbreakingly unsuccessful attempt to find greener pastures. He can't risk his heart getting close to anyone.
But on a ranch, nature has a way of forcing an issue. When a snowstorm threatens, David and Brian head out to mend a fence and round up some stray cattle. David gets injured, and they must survive in the snow, cold, and wind. It might be the start of a relationship… or the end of their lives.

Review:
Fired from his job right in the middle of winter, ranchhand Brian tries to find work and a place to stay elsewhere when he ends up crashing his car during a horrible storm. Thankfully, David, Haven and Phillip find him before he can freeze to death and bring him home to the range. Offering him to stay and work the range, Brian's all too willing to accept especially when his high school crush is one of the people who saved him. It's been years since David saw Brian and while they weren't in the same social circles, David still remembers Brian. And they may be interested in each other but both men don't want to have any type of relationship. But when David gets injured when they try to round up some stray cattle and end up stranded in a snow storm instead, will they be able to resist the attraction between them?
This was such a sweet story. I loved the fact that Brian and David sort of knew each other from when they were young and even though their hometown is miles and miles away, they still ended up on the same range. Coincidence or fate? More than that, I adored the fact they both had crushes on each other. Brian was geeky in school while David was a jock but that didn't stop them from noticing each other even if they never actually spoke to one another. As adults, they're both a bit jaded. Brian was just let go because his co-workers didn't like the fact he was gay and started sabotaging his work. And David is struggling with being back on the range after how he treated not just his ex-lover (who works on the same range, sort of) but also his friends when he left them to go off with some trick. They have their own issues but the connection they have from the start is easy and alluring to the point that they get close very fast even though they didn't want to pursue anything.
I really enjoyed this one but I found some parts of the story to be a bit repetitive. Mostly, the inner monologue of both David and Brian. I LOVED them but David would bring up hurting Mario or Brian would bring up crushing on David in high school just a few times too many. There were other things they'd repeat as well and I could understand WHY they'd constantly think about those things but it didn't stop me from wishing they'd move on from harping on certain issues.
In the end, I really liked this one. While I haven't read any of the other Range series, I was still able to read this one as a standalone because while there were hints about past relationships and conflicts, it wasn't so overbearing or confusing to follow along and understand when/what happened during those times. I loved the setting, the easy acceptance and behavior around the ranch but I also liked that Brian and David, while not friends when they were young, still had a past in common. Now that I've read this story, though, I'll definitely be going back and reading the first books in the series. Plus, I'd love to see how Haven and Phillip got together!
Overall Impression: I really liked it!
*I received a copy of this book from the author in return for a fair and honest review.*