Cold Range Weather, Hot Range Hearts
by Andrew Grey
I used to remember at eight years old, laying in my bed listening to the wind.  I'd get out and pad across the cool floor in my bare feet and flannel pajamas with cowboys on them so I could look out my bedroom window and watch the snow as it came down.  More than once my mom scolded me to get back into bed.  The power was out and we didn't have any heat, so if I didn't get under the covers I was going to catch my death.  My mother was a little dramatic, so I come by it honestly.
I grew up in Western Michigan near Lake Michigan and we got a lot of snow.  There were times when it would snow and blow for days.  Mom and dad wouldn't be able to go to work because the town was basically shut down and all of us would sit in the living room and watch the curtains of white fall and blow outside.  So when it came to write the snow scenes in A Chaotic Range all I had to do was conjure up those images and all the snow, ice, and cold came rushing back.
In case you can't guess I love winter.    After those blizzards, the snow drifts would be so deep that we'd climb on the roof and jump into them.  Okay, we were kids and maybe not the brightest, but we had fun.  Mom and dad's shrubs, however, were another story.    Sometimes we'd get dressed up while the storm still raged and build shelters in the yard out of the wind.  It would be snowing like crazy, but we'd burrow down into a snow back and pretend we were stranded and had to keep warm.  Of course the house was just a few feet away and when the cold got too much, we'd go inside and mom would have something ready to warm us up.  Sometimes I really mess those days, okay I think about them from time to time and thank god I live where the winters aren't as severe.  Because let's face it, I'm older, smarter, no jumping off roves, and I don't like the cold as much as I did when I was eight.

About A Chaotic Range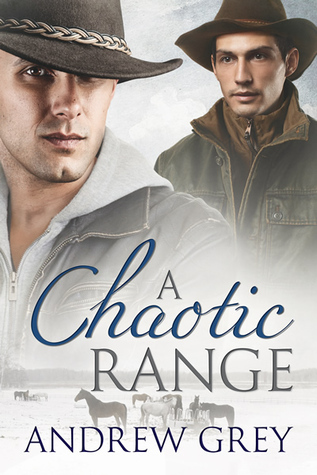 Most of the time ranchhand David rescues stray cattle, but this time he and his fellow cowboys Wally and Haven save a stranded motorist. David is surprised to find his former high school classmate nearly frozen in his car. After learning that Brian Applewright's boss fired him from his ranch for being gay, they invite him back to theirs to take a job.
David and Brian moved in different social circles at school, but working together brings them closer. However, David has a rocky history on the ranch. The foreman is his ex, and he only recently returned after a heartbreakingly unsuccessful attempt to find greener pastures. He can't risk his heart getting close to anyone.
But on a ranch, nature has a way of forcing an issue. When a snowstorm threatens, David and Brian head out to mend a fence and round up some stray cattle. David gets injured, and they must survive in the snow, cold, and wind. It might be the start of a relationship… or the end of their lives.
 Available at: Dreamspinner Press, Amazon and Barnes & Noble

An Excerpt from A Chaotic Range
"Shit!" Brian breathed and blinked a few times, taking stock to ensure he wasn't hurt. The engine had cut out. He tried to start it again, but though the engine turned over, it just wouldn't start. He was most likely too low on gas. Brian stared out the windshield for a few minutes in a daze and then became fully aware of himself once again. He unfastened his seat belt and opened his door. It didn't budge, and he pushed harder, but the snow must have been packed around it because it barely moved at all. The wind, however, found the crack and began pushing its way inside. Brian yanked the door closed. He turned on the fan to force what heat he could get from the engine into the car and then turned it off. He left the hazard lights on, hoping someone might pass or see them if there was a break in the wind. Brian knew it wasn't likely. He felt the heat slowly dissipate as he sat.
After a few minutes, he figured he had nothing to lose. The car was getting colder and colder, so he shifted to the passenger seat and tried that door. It was worse and would only open an inch no matter how hard he pushed. Brian was stuck, he knew it, and there wasn't a damned thing he could do about it. As it got colder, he decided to try his door again. By rocking it back and forth, Brian was able to get it open about six inches, but he'd robbed the last remaining heat from inside the car to do it. He continued working and managed to get the door to open just enough that he could get out.
Brian stepped into snow that went up well past his knees. The car had plowed into a snowbank that had been built up from past efforts to plow the road, with light snow on top of heavy. The back wheels of the car were away from the road, with the body and front of the car resting on the mound. He wasn't going anywhere, not without help, and all he could see in every direction was white. Nothing but white. He remembered briefly seeing what might have been buildings during the break in the wind, but he wasn't sure if he'd passed them already or not. His best bet was to get back in the car, try to keep warm, and hope the wind and storm died down soon so someone would see him. So he got back in the car and pulled the door closed. As soon as the door clicked shut, he wished he'd tried to get to his things in the trunk. He reached for the release and it opened, so he got back out and struggled to make his way around to the back.
He managed to open the trunk and somehow keep it open against the wind and snow as he grabbed his duffel and a small backpack. Then he tried to climb back into the car. He slung the backpack over a shoulder and used his free hand to pull himself along the car to the door. He grasped it and managed to leverage himself around the door. He pushed the bags through the opening and then squeezed inside, yanking the door closed with what sounded like a thud of finality. He wasn't going out again until something changed.
Brian's hands ached and his ears and face felt as though they were frozen. He tried the engine again, and it blessedly turned over and started. "Thank God," he whispered and placed his hands over the vents blasting heat into the space. They tingled along with his ears and face as his skin warmed.
After five minutes he was warm and had stopped shivering. He'd reached for the keys to shut down the engine when it sputtered and then went silent. The only source of heat other than himself was gone. Brian listened to the wind as it howled and raged outside the car. There wasn't a damn thing he could do. He pulled open his duffel bag and shrugged off his coat. He was wearing a sweatshirt, but he found another and pulled it over his head. Then he put his coat back on. The jeans he'd been wearing were wet because the snow he'd picked up outside had melted in the heat, so he shucked them off, along with his wet shoes, and threw them on the passenger-side floor. He had a pair of sweatpants somewhere, so he rummaged for them quickly because he was starting to shiver again in nothing but his underwear. He pulled on the sweats and then a pair of jeans. He had to get creative, but at least the weight he'd lost in the last few weeks made room inside the jeans for the sweats.
Brian stripped off his socks, then found two fresh pairs and pulled those on. He smacked his forehead. He had left his boots in the trunk. He didn't dare risk getting his last dry clothes wet now, and he couldn't face another trip out of the car. He'd just have to work with what he had. He found a hat in the duffel and pulled it on, wishing he'd had it earlier. Then he rummaged for something to put on his hands. He couldn't find anything and figured he could just shove his hands in his pockets. Then he climbed in the backseat  and pulled out the few remaining clothes he had left. In the bottom of the duffel he found a bath towel. He wrapped that around his feet and curled up on the seat with the rest of his clothes like a makeshift patchwork quilt resting on top of him, his head resting where the seat and back passenger door met.
Other than the wind and his own breathing, the world was silent. Brian lost track of time with only his thoughts to mark its passing. He'd screwed up shit in his life so bad. This was not how he'd pictured his life ending, waiting as cold slowly made its way through the clothing that surrounded him. He worked his hands out of the sleeves of his coat and hugged them to his body. It was a decent coat, but not nearly warm enough for this kind of weather.
The car windows fogged and then formed ice crystals on the inside as the moisture from his breath began to freeze. He'd had such plans for his life. His parents didn't know shit about anything, and he'd left to make his fortune. He was going to be famous in rodeo. That would show them. His hometown of Casper would throw him a parade when he came to town. Well, that hadn't happened. He knew now it couldn't have, no matter what, but he'd been a kid full of delusions of grandeur that the world had slowly pulled away from him. Nothing he planned seemed to happen. He wasn't talented enough for rodeo, and all he really knew was ranch work, but that didn't seem to be working out either.
Brian closed his eyes and let the movie of his life play. There was nothing else to do, so he figured he might as well wallow in the screwed-up mess his life had become. He'd had his last ranch job near Cheyenne the longest of any of them. He'd really liked the place too. The owners had been good people and they'd treated him decently, even after they found out about the "liking broncs instead of fillies" thing. But the other hands had been a completely different matter. The news had spread like wildfire, and after that, nothing had gone right. The guys had made sure of that, and then, well, he'd had to leave—in the middle of a harsh winter when no ranch on earth was hiring anybody for anything. His only chance was to find a job somewhere and hope that spring would bring something better. Look at him: thirty-two years old, out of work, crouched in the back of his car to try to stay alive, not really sure he cared if someone rescued him. Maybe it was like his old man had said—he'd have been better off if he'd just curled up somewhere and died. Maybe his father had been prophetic. He certainly had crawled here, and unless someone came along, it looked like he would very well die here.

About Andrew Grey
Andrew grew up in western Michigan with a father who loved to tell stories and a mother who loved to read them. Since then he has lived throughout the country and traveled throughout the world. He has a master's degree from the University of Wisconsin-Milwaukee and recently quit the evil day job to write full time.
Andrew's hobbies include collecting antiques, gardening, and leaving his dirty dishes anywhere but in the sink (particularly when writing)  He considers himself blessed with an accepting family, fantastic friends, and the world's most supportive and loving partner. Andrew currently lives in beautiful, historic Carlisle, Pennsylvania.
Find out more about Andrew on his Website, Facebook, Twitter or email him at andrewgrey@comcast.net
Andrew has graciously offered up an eBook copy of winner's choice from his backlist to one lucky winner!! The giveaway starts now and ends November 16, 2014 at 11:59 p.m. To enter, just click the link below!
Please be aware that the only way to enter the giveaway is to click the Rafflecopter link above. Any comments on this post will not count towards entering the giveaway, except to verify your Rafflecopter entry.
Don't forget to check out Nikyta's review of A Chaotic Range to see what she thought of it!
Good luck!