Opposites Attract
by Heidi Belleau and Rachel Haimowitz
Hi, and welcome to the Burnt Toast B&B blog tour! We're Heidi Belleau and Rachel Haimowitz, the authors of the book, and we're so thankful to have you along for the ride, and thankful to our hosts, The Blogger Girls, for having us here today!
Normally on a blog tour, we like to share all kinds of behind the scenes goodies to do with the book: inspiration images, glimpses into research and plotting, deleted scenes, conversations about our process, character bios, etc. For this tour, though, we're doing something a little different, but we hope you'll still find it worth your while.
When Heidi first pitched The Burnt Toast B&B, it was as an opposites-attract story centering around the world's worst B&B . . . and an M/M romcom where one of the lead guys just happened to be transgender. Writing solo, she'd done a trans book before, but that was very much a Trans Book, all about exploring gender identity, defining who you are, and coming out to your friends and loved ones. This book . . . isn't that. It's the story of an optimistic hipster stuntman and a pessimistic lumberjack who learn to make espresso, fix up a failing B&B, and generally butt heads in between loads of laundry.
Ginsberg, our hipster, is much like many of our other favourite M/M heroes: he's funny, resilient, romantic, and sexy as hell. He's also transgender; secure in his identity, his body, and his sexuality; and working in a career he loves. But his life isn't without hardships. Ginsberg made his own family after his biological one turned out to be too toxic to live with. He scrimped and saved and borrowed to pay for the medical care he needed to be happy and healthy. He found a roof over his head as a "considerate couchsurfer," living with friends and acquaintances on a temporary basis when money got tight. In Derrick and his failing B&B, Ginsberg finally finds an opportunity to have a real home, if only he can convince Derrick to keep the place open.
Ginsberg's background of financial hardship and lack of family support is all too common among many people who, like him, are trans and trying to live happy, fulfilling lives as their true selves. As such, we the authors, our publisher Riptide, and our generous blog tour hosts will be using the next few days to highlight the personal fundraisers of real trans people in need. We hope that if you've got a little extra money this month, you'll consider donating, and if money's tight, maybe you can help by spreading the word, too.
For our part, Rachel, Heidi, and Riptide will be giving donors a $5 Riptide credit code for every $10 in donations you make (up to $50 in codes per person, up to $5,000 in codes overall)–just email your donation receipt(s) to info@riptidepublishing.com with the subject line "Burnt Toast Tour Donation," and Riptide will send out all $5 codes a week after the tour ends. (It's totally cool, by the way, to spread your donations across multiple fundraisers if you'd like; we'll add up all your receipts sent in a single email and base your credit vouchers on the grand total.)
We're also hosting a special contest for people who donate: every dollar in donations to any of these fundraisers will earn you an entry into a drawing for a full paperback set of Riptide's current Bluewater Bay lineup, OR two signed paperback copies of The Burnt Toast B&B. We'll draw one week after the blog tour ends. Every dollar helps, and every dollar counts!
Lastly, we'll randomly select three commenters from all the tour stops and donate $50 apiece in each winner's name to the trans charity or fundraiser of their choice. (Please be sure to leave a way for us to contact you if you win!)
Today's featured fundraiser is for Oliver Shawn Bragg, and you can find it at http://www.gofundme.com/OliverShawn. And here's Oliver 🙂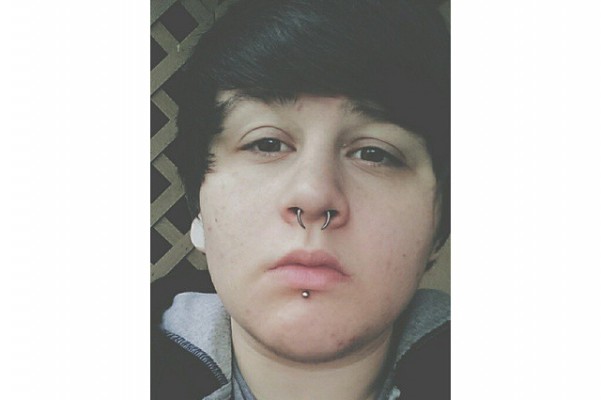 Oliver is a young trans man currently on HRT and saving for top surgery. As he's only making minimum wage right now, he very much needs our help. You can learn more about Oliver and donate to his surgery fund at his fundraiser page, http://www.gofundme.com/OliverShawn.
Thank you so much for following our (slightly unconventional) blog tour! Be sure to leave a comment on this or any of our other tour stops for a chance to have $50 donated in your name to a trans-related fundraiser/charity of your choice. And if you choose to donate to any of the fundraisers we've highlighted over the course of the tour, don't forget to forward proof of your donation to info@riptidepublishing.com with the subject line "Burnt Toast Tour Donation" to claim your $5 coupon(s) and enter your name in the extra special drawing!
Lastly, if you or someone you love is transgender and going through a difficult time, please check out the Trans Lifeline, http://www.translifeline.org/. This crisis helpline is staffed entirely by trans volunteers and runs at least twelve hours a day, seven days a week, in the US and Canada. If you're in crisis, please call them. If you'd like to support this nonprofit, please visit http://www.gofundme.com/translifeline.

About The Burnt Toast B&B
After breaking his arm on set, Wolf's Landing stuntman Ginsberg Sloan finds himself temporarily out of work. Luckily, Bluewater Bay's worst B&B has cheap long-term rates, and Ginsberg's not too proud to take advantage of them.
Derrick Richards, a grizzled laid-off logger, inherited the B&B after his parents' untimely deaths. Making beds and cooking sunny-side-up eggs is hardly Derrick's idea of a man's way to make a living, but just as he's decided to shut the place down, Ginsberg shows up on his doorstep, pitiful and soaking wet, and Derrick can hardly send him packing.
Not outright, at least.
The plan? Carry on the B&B's tradition of terrible customer service and even worse food until the pampered city boy leaves voluntarily. What Derrick doesn't count on, though, is that the lousier he gets at hosting, the more he convinces bored, busybody Ginsberg to try to get the B&B back on track. And he definitely doesn't count on the growing attraction between them, or how much more he learns from Ginsberg than how to put out kitchen fires.
Available at: Riptide Publishing

About Heidi Belleau
Heidi Belleau was born and raised in small town New Brunswick, Canada. She now lives in Alberta with her husband, an Irish ex-pat whose long work hours in the trades leave her plenty of quiet time to write.
She has a degree in history from Simon Fraser University with a concentration in British and Irish studies; much of her work centred on popular culture, oral folklore, and sexuality, but she was known to perplex her professors with unironic papers on the historical roots of modern romance novel tropes. (Ask her about Highlanders!)
Her writing reflects everything she loves: diverse casts of characters, a sense of history and place, equal parts witty and filthy dialogue, the occasional mythological twist, and most of all, love—in all its weird and wonderful forms.
Connect with Heidi at her Blog, Twitter, Goodreads or email her at heidi.below.zero@gmail.com

About Rachel Haimowitz

Rachel Haimowitz is an M/M erotic romance author and the Publisher of Riptide Publishing. She's also a sadist with a pesky conscience, shamelessly silly, and quite proudly pervish. Fortunately, all those things make writing a lot more fun for her . . . if not so much for her characters.
When she's not writing about hot guys getting it on (or just plain getting it; her characters rarely escape a story unscathed), she loves to read, hike, camp, sing, perform in community theater, and glue captions to cats. She also has a particular fondness for her very needy dog, her even needier cat, and shouting at kids to get off her lawn.
Connect with Rachel at her Website, Tumblr, Twitter, Goodreads or email her at rachel@riptidepublishing.com.